2018 Thurston CD Board of Supervisors Board Seats Opening

The Thurston Conservation District Board of Supervisors will have two open seats to be filled in 2018: Elected Position #1 and Appointed  Position #1 (appointed by the WA State Conservation Commission).
The Thurston Conservation District is pleased to announce an opportunity to contribute to conservation and your community by serving on the Board of Supervisors. Supervisors are public officials who direct the activities of the conservation district. Although they serve without compensation, they are eligible to be reimbursed for appropriate expenses.
December 20, 2017 Board of Supervisors Resolution Adoption

Thurston Conservation District Board of Supervisors adopted TCD Resolution #12-2017 at their December Board meeting formalizing the following dates and times of the 2018 Thurston CD Board of Supervisors election.
A poll-site election for a seat on the Thurston Conservation District board will be held on March 3, 2018 in conjunction with the District's Annual Native Plant Festival at the Thurston Conservation District offices, 2918 Ferguson St SW, Tumwater WA 98512.
Polls will open at 10am and close at 3pm. Registered voters who reside within the Conservation District boundary (refer to map below) are eligible to vote. Absentee ballots are available beginning February 5, 2018 upon request for eligible voters. Absentee ballots must be requested on or before 4:30 pm on February 28, 2018. Absentee ballots can be requested from the Thurston County Auditor's Election Office, 200 Lakeridge Drive SW, Bldg 1, Suite 118, Olympia, WA 98502, (360)786-5408. Ballots can also be electronically downloaded and printed from the Thurston County Auditor's website beginning February 5, 2018. Ballots may not be requested through the Thurston Conservation District.
Candidates must be registered voters residing in the Conservation District, and may be required to own land or operate a farm. The candidate filing deadline is January 26, 2018 at 4:30pm. Filing paperwork may be printed from the Thurston CD website (links below), or picked up in person. Please contact Nora White, Election Supervisor, directly to pick up or drop off paperwork.
Information about elections procedures is available at the district office – please contact Nora White, nwhite@thurstoncd.com or 360-754-3588 ext.105.
 Thurston Conservation District Boundaries Map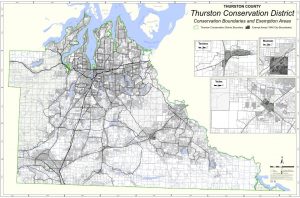 Candidate Paperwork & Statements
Form PF-A Candidate Information for the Office of Elected Supervisor Specific information must be submitted by all candidates to the Conservation District.
Form PF-B Nominating Petition for the Office of Elected Supervisor

A nominating petition is required for candidates who wish to have their names pre-printed on the official ballot. Please note, candidates must receive a minimum of 25 qualified signatures and you will need at least 3 copies of this form in order to fulfill that.

Per TCD Policy 4.8, candidates may submit a Supervisor Candidate Statement and photo to help inform voters during the supervisor election process. Candidate statements must be received at the District Office no later than 4:30 pm on January 26, 2018. Candidate Statements are limited to 200 words and must be submitted electronically.  The District retains the right to eliminate information for space availability or content appropriateness, at the sole discretion of the District.  Once submitted, the District has sole discretion to publish, or not publish, that information as it sees fit, provided each candidate's statement is treated equally.  Inaccurate, erroneous, or offensive information (including language that is hostile, attacking, aggressive, invading, incursive, combative, belligerent and/or profane) will result in the non-publication of the candidate statement.
Candidate statements must be limited to information about the candidate, and may include any or all of the following:
Explain the candidate's interest in the position
Current occupation/employer
Education
Information about their family
Listing of any memberships to groups/associations
Candidates may submit a digital photo with their statement, but images must meet these requirements:
Must be digital (JPEG format)
Must be current (within 5 years of the date of application)
Head and shoulders only portrait on a light colored or plain background
(Photos with scenery, flags, public buildings or facilities, or other background settings will not be accepted.)
No photo may reveal clothing or insignia suggesting that candidate holds a public office
Color photos are preferred, however black and white is acceptable
Judicial robes, law enforcement or military type uniforms are prohibited
Submitted photos become the property of the District.
As determined by the district, the failure to properly and timely submit such a statement will result in the non-publication of the statement.  Any issue a candidate has surrounding a candidate's submitted statement must be made in writing (electronic or paper) to the District's Election Supervisor.
---
All candidates are encouraged to meet with the Election Supervisor to go over paperwork. Paperwork may be submitted in person or scanned and submitted via e-mail. Please contact Election Supervisor, Nora White at nwhite@thurstoncd.com or 360-754-3588 ext.105 in order to make arrangements.