Learn about our upcoming workshops, work parties, and public events!
Rain Barrels 101
Sunday, December 10th 1:30-3pm & Tuesday, December 12th 6-7:30pm

Both workshops will be held at the Thurston CD Offices – 2918 Ferguson St SW, Tumwater 98512
Do you live in the Henderson or Lower Nisqually Watersheds? (highlighted in the map below!)
Is all this winter rain running off your roof and down the drain unused? Catch the run-off now and water your garden next summer!
Join the Thurston Conservation District in an educational and hands-on Rain Barrel Workshop for residents of the Henderson and Lower Nisqually watersheds. We will learn about the use of rain barrels and rainwater harvesting from an expert, then participants will assemble their own rain barrels to take home and use.
Supplies are limited at this event and pre-registration is required, so please register early! We are able to provide one discounted rain barrel per household. Participants must reside in the Henderson or Lower Nisqually Watershed– Please consult the map below if you are unsure if you qualify.
To register and reserve your rain barrel, purchase one $25 workshop registration per household at https://TCDrainbarrels.bpt.me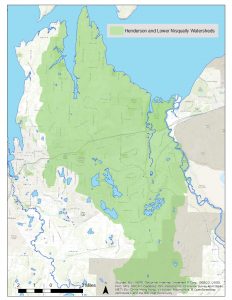 Questions? Contact:

Kathleen Berger
smoorehead@thurstoncd.com
(360) 754-3588, ext. 136
---
Coffee with Your Conservation District
9:30am, Every Third Wednesday of the Month
Thurston Conservation District wants to help you! Meet district staff, learn about free programs and services, ask questions, and find out about free workshops, farm planning assistance, restoration projects and more! Let us know how we can better serve you. Join us for a no-host cup of coffee and informal conversation once a month.
Upcoming dates and locations:
December 20th
Norma's Burger @ I-5 (Nisqually)
10322 Martin Way E, Olympia, WA 98516
January 17th
Cutter's Point Coffee
5750 Ruddell Rd SE C, Lacey, WA 98503
Questions? Contact:

Sarah Moorehead
smoorehead@thurstoncd.com
(360) 754-3588, ext. 136
---
Annual Native Plant Festival & Sale
Saturday, March 3rd 10am – 3pm

Our annual Native Plant Festival is located at our offices, 2918 Ferguson St SW Tumwater, 98512

Join us for a fun day to welcome spring with affordable native plants, knowledgeable volunteers and staff to help you pick the right plants, vendors and community partner booths, workshops, and live music!
Pre-order your plants now through January 31st, 2018!
You can view a full list of available plants on our products page.
Questions about our annual event, pre-orders, or interested in being a vendor or volunteer at the Native Plant Festival? Call us today (360)754-3588 ext. 105 or e-mail nwhite@thurstoncd.com
---
---
Photo from Oyster Bay Farm, taken by Corona Communications.