South Sound GREEN provides opportunities for classes and students to plan and implement service learning and action projects to improve the environment.
Recent Projects
November 2016
After learning about water quality and salmon, several classes participated in planting native shrubs along the banks of McLane Creek. This action project provided the opportunity for students to apply what they had learned and implement real change. Also, the students had a blast getting their hands dirty! Together, they planted hundreds of shrubs that will provide ecological services to the stream and improve habitat for wildlife for years to come.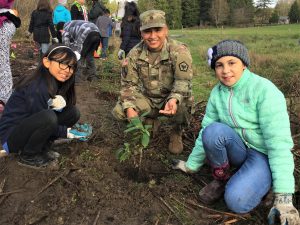 January 2017
A group of students from Marshall Middle School removed literally a truckload of invasive evergreen and Himalayan blackberry from a site along the McLane School Trail. It was a freezing cold day in January, but the students persevered and it was rewarding to see the native plants peeking through the thicket as they continued to work.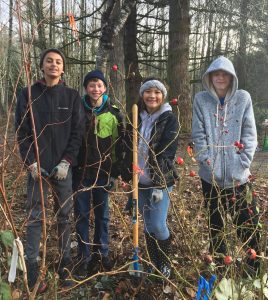 Past Projects
This slideshow requires JavaScript.