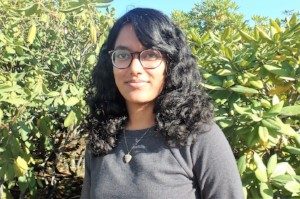 AmeriCorps Volunteer & Outreach Coordinator
TCDAmericorps@thurstoncd.com
(360) 754-3588, ext. 110
Rachel Nehemiah joins the Thurston Conservation District as the new AmeriCorps Volunteer and Outreach Coordinator.
She spent most of her life in the deserts of southern New Mexico before moving to New York for college. She graduated from New York University with a BA in Environmental Studies and minors in American Sign Language, Animal Studies, and Anthropology.
Upon graduating, Rachel pursued her desire to work with animals by working at a county animal shelter facilitating adoptions of dogs, cats, and a hodgepodge of other domestics. The part of the job that appealed to her most was coordinating volunteers and educating the public on animal issues. She enjoyed being able to help people engage with important issues in an informative and proactive way. This experience encouraged her to pursue outreach by undertaking an AmeriCorps term with Thurston CD.
In her free time, she likes to travel, garden, bake, and spend time with her cats and dogs.