Upcoming Events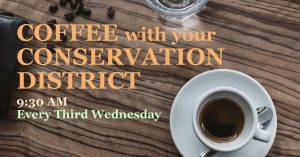 Coffee with Your Conservation District
10am, Every Third Wednesday of the Month
Thurston Conservation District wants to help you! Meet district staff, learn about free programs and services, ask questions, and find out about free workshops, farm planning assistance, restoration projects and more! Let us know how we can better serve you. Join us for a no-host cup of coffee and informal conversation once a month.
Upcoming dates and locations
June 20th, 9:30am
Burger Claim
20320 Old Hwy 99 SW, Grand Mound, WA
July 18th, 10am
Boston Harbor Marina
312 73rd Ave NE, Olympia, WA 98506
August 15th, 10am
Dancing Goats Coffee Bar
4219 6th Ave SE, Lacey
---
Small Equipment Demonstration

Workshop

Thursday, June 21st
5:30-7:30pm
Scatter Creek Farm & Conservancy
8941 James Rd, Rochester, WA 98579
Curious how to operate the small equipment that Thurston CD rents out? Join us on the longest day of the year for an evening outdoor demonstration to learn the ins and outs of our Manure Spreader, Spin Spreader, and Drop Spreader and how they can be used to improve your soil health. This is your chance to get your questions answered, see the equipment in action prior to renting, and learn about how each piece of equipment can be used for maximum efficiency.
RSVP: Nora White nwhite@thurstoncd.com or 360.754.3588 x105
---
Best Practices for a Healthy Lawn



Wednesday, June 27th
5:30-6:45pm
Olympia Timberland Library, Meeting Room (near Children's Section)
313 8th Ave SE, Olympia, WA 98501
Are you frustrated by weeds and moss in your lawn? Come learn about appropriate fertilizer application, protecting water quality, and tips for a beautiful lawn.
RSVP: Nora White nwhite@thurstoncd.com or 360.754.3588 x105
---
Living Fences: Hedgerows 101



Wednesday, July 18th, 6-7:30pm
Tumwater Fire Station, Meeting Room
311 Israel Rd SW, Tumwater, WA 98501
Hedgerows are beautiful and beneficial landscaping and conservation tools. Come learn about the role a hedgerow can play on your property to create habitat, attract pollinators, preserve topsoil, and shelter from wind. Many visual examples will be shared!
RSVP: Nora White nwhite@thurstoncd.com or 360.754.3588 x105
---
Soil Health for Vegetable Farming



Saturday, August 4th, 11am-2pm
Urban Futures Farm
928 Wilson St NE Olympia, WA 98506
The health of your soil could be hugely impacting your garden. Join us for a field day at Urban Futures Farm in Olympia to learn about the importance of soil health and how to influence your own garden to increase production, maximize efficiency, and preserve healthy soils. We'll be covering soil health techniques of crop rotation, cover cropping and under seeding, variety of tillage methods, nutrient management, composting. The focus will be on building soil and managing for soil health organically.
RSVP: Nora White nwhite@thurstoncd.com or 360.754.3588 x105
---
Build Your Own Rain Barrel



Thursday, August 16th, 5:30-7:30
Thurston CD Offices
2918 Ferguson St SW, Tumwater WA 98512
REGISTRATION REQUIRED- SPACE IS LIMITED
Have you been wanting a rain barrel at your home or business? This is an opportunity to learn about rain water catchment systems, preserving water quality and quantity, and to make and take your very own rain barrel.
Thurston CD is offering a cost share to the first 12 households who register. Additional rain barrels may be built and purchased for $85/each. SPACE IS LIMITED- You must RSVP
RSVP: Nora White nwhite@thurstoncd.com or 360.754.3588 x105
---
Firewise: Home Fire Preparedness



Thursday, August 21st, 4:30-5:45
Lacey Timberland Library, Meeting Room
500 College St SE, Lacey, WA 98503
The idea of a fire near your home is scary- come learn some simple steps to reduce the risk around your home and how you can take to make sure you're prepared for the worst.
RSVP: Nora White nwhite@thurstoncd.com or 360.754.3588 x105
---
Have a workshop suggestion or question about our upcoming programming? Please let us know!
Nora White
Education & Outreach Coordinator
nwhite@thurstoncd.com
(360) 754-3588, ext. 105
---