Upcoming Events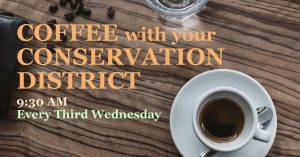 Coffee with Your Conservation District
9:30am, Every Third Wednesday of the Month
Thurston Conservation District wants to help you! Meet district staff, learn about free programs and services, ask questions, and find out about free workshops, farm planning assistance, restoration projects and more! Let us know how we can better serve you. Join us for a no-host cup of coffee and informal conversation once a month.
Upcoming dates and locations
April 18th
Sandstone Café
273 Sussex Ave. W, Tenino, WA
May 16th
Joe's Place
118 S Main St., Bucoda, WA
June 20th
Burger Claim
20320 Old Hwy 99 SW, Grand Mound, WA
---
Liming 101: Good Liming & Calcium Nutrition Practices
Thursday, April 26th
5:00-8:00 pm

Tumwater Fire Station Meeting Room,
Gudrun Mahrt, of Columbia River Carbonates, will talk through how to develop a liming program to boost productivity and improve profit. Better and more predictable results can be achieved by knowing the right       material, right amount, right place and right time to apply lime. Gudrun will illustrate her recommendations with examples of studies, observed crop and pasture responses, and experiences from her years advising farmers.
There will be an opportunity to test the pH of your soils yourself. Bring soil samples from your land for instant testing and go home with a better understanding of what you can do to make a difference in land stewardship through pH management.

Information about Thurston CD's comprehensive soil testing services will also be shared and soil samples may be dropped off during this workshop.
Please RSVP, space is limited
Nora White, nwhite@thurstoncd.com or 360.754.3588 ext 105
---
Greener Pastures: Increasing Productivity, Reducing Weeds, & Improving Soil Health
Saturday, May 12th
11:00am-2:00pm
Private Landowner's Property- RSVP for Location Details
Join us for an afternoon where we learn about how to manage your pasture for productivity, reducing weeds, and improving soil health. We'll cover nutrient management, pasture rotation, and pasture renovation. The workshop will be held on-site at a nearby farm where we can look at some pasture management practices being implemented and ask questions.
RSVP Required.
RSVP: Nora White nwhite@thurstoncd.com or 360.754.3588 x105
---
Supporting Backyard Habitat
Tuesday, May 22nd
4:30pm-5:45pm
Lacey Timberland Regional Library, Meeting Room
500 College St SE, Lacey, WA 98503
Join Thurston Conservation District Habitat Specialist, Kathleen Berger, in exploring how to create pockets of wildlife habitat in your backyard. We'll explore affordable, beautiful, and environmentally friendly ways to support our native flora and fauna. This workshop is perfect for urban and suburban households interested in supporting birds, pollinators, and small mammals in their backyards.
This will be a fun and family friendly workshop!
RSVP: Nora White nwhite@thurstoncd.com or 360.754.3588 x105
---
Have a workshop suggestion or question about our upcoming programing? Please let us know!
Nora White
Education & Outreach Coordinator
nwhite@thurstoncd.com
(360) 754-3588, ext. 105
---