Each year, the District hosts a one-week summer camp to teach kids ages 8-12 about the importance of salmon to our ecosystem and community. Registration for the 2018 Salmon Adventure Camp is now open!
---
Questions:
Rachel Nehemiah
AmeriCorps Outreach & Volunteer Coordinator
tcdamericorps@thurstoncd.com
(360) 754-3588, ext. 110
2018 Salmon Adventure Camp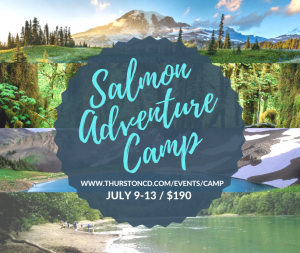 Each year, we take kids ages 8-12 on an adventure around the south sound to learn about our salmon and the ecosystem, wildlife, and people that are so closely tied to them. Each day is a different adventure. This year, we will be exploring the Tacoma Nature Center, Billy Frank Jr. Wildlife Refuge, Mt. Rainier National Park, Olympic National Park, and Millersylvania State Park.
This camp is a blend of free exploration of nature and focused, hands-on education from park rangers and experienced educators. Activities will include identifying wildlife from pelts and skulls, salmon dissection, snowshoeing, hiking, swimming and more. With a child to adult ratio of 3 to 1, campers get plenty of personal focus on this adventure!
Last year's Salmon Camp:
---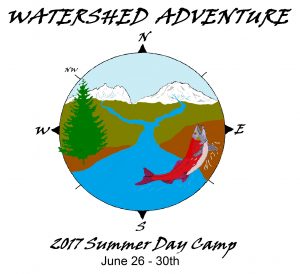 This year Thurston Conservation District teamed up with local business Get Outside Olympia to offer a week-long day camp to help kids learn about our regional watersheds through adventure and exploration. On the first day of camp we met at Priest Point Park. The team got to know each other, playing name games, fun and challenging team building games, and sitting down together to make our Watershed Adventure Camp community flag. We then headed into the woods to learn how to stay safe in the wilderness and built shelters both with tarps and with materials we found in nature. After lunch in our shelters, we explored the beach then went back to base camp to learn about Watersheds.
Thurston Conservation District AmeriCorps member Dakota Dominguez used his model Puget Sound Watershed to demonstrate how water that falls from the sky runs down into rivers and eventually to the Sound. Campers became clouds, using spray bottles to drop Pacific rains on the Olympic and Cascade Mountains and see the water flow down the mountains into the sea. Adding glitter and oil to the model helped us visualize how pollutants can get into our waters. The kids then built their very own watershed models and saw how the rains came together from their own mountain ranges. The remainder of the day was spent learning about human history of the region through making and eating Native and pioneer foods; we churned our own butter and sampled smoked salmon!
On the second day of camp we set out to begin exploring our watersheds. We traveled first to Alder Lake, where we had lunch and played a game that helped us learn about salmon's struggle to survive in a world of ever changing variables. We then met up with Ranger Kelly from Mount Rainier National Park, who led our van up the mountain to Paradise. We hopped out of the van, put on snowshoes and followed Ranger Kelly on a snowshoe hike to the Nisqually vista where we saw where the Nisqually River is born from the glaciers on Mount Rainier. On the way, Ranger Kelly taught us about geology and weather patterns on the mountain.
Having gotten up close and personal with the mountains on the east side of the Puget Sound, on our third day we headed for the Olympic Mountains on the west side of the Sound. We met Ranger Jeff at the Staircase ranger station in Olympic National Park and he told us stories, showed us bones and pelts, and taught us about the amazing wildlife that call the Olympic forests home. After lunch by the beautiful North Fork Skokomish River, each camper received their very own compass and we learned how to navigate with compasses and topographic maps. With our navigation tools in hand our group split into two and followed the Staircase loop trail in opposite directions. When the kids discovered something unique, they used their compasses and viewed the landscape to decide where it was on the map, then marked their discovery. Both trail groups met up at the bridge after a mile of hiking and swapped maps so we could find the things that the other group had discovered along the trail.
On the fourth day of camp we met up with environmental educator Davy Clark at the Billy Frank Jr. Nisqually National Wildlife Refuge to explore the Nisqually estuary, where the very river we saw beginning on the flanks of Mt. Rainier was coming to meet the salty waters of the Puget Sound. We learned how to use microscopes and pipettes to observe tiny wetland invertebrates, and then we learned how to use binoculars to observe wildlife and birds. We spent the afternoon out on the trails around the Refuge, learning about plants and animals. We saw a muskrat, a tree frog, and a barn swallow nest! We ended the day dissecting owl pellets for little bone fragments.
On the final day of camp, we headed to where all the waters we had explored finally come together, in the Puget Sound. We spent the day at the beach at Tolmie State Park. We were joined by Thurston Conservation District and South Sound GREEN's very own Hanna Jones, who specializes in marine biology and environmental education. Hanna helped us learn about the critters that live in the intertidal zone on the beach and led us in a survey of beach crabs. We ended our week full of explorations with a campfire and s'mores. It was a dream come true to lead these brilliant and adventurous kids on a tour of this beautiful region and to see them making friends and learning; making connections about water, weather, geography, wildlife, outdoor skills, and getting outside and exploring!
Get Outside Olympia offers more outdoor camps throughout the summer, check out their website for more information: www.getoutsideolympia.com
-Dakota Domínguez, AmeriCorps Environmental Stewardship & Outreach Coordinator 2016-2017