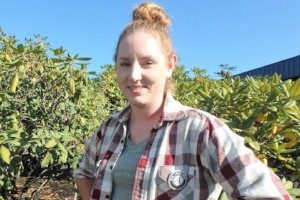 South Sound GREEN AmeriCorps Puget Sound Educator
SSGreen2@thurstoncd.com
(360) 754-3588, ext. 102
Aeriel Wauhob joins the Thurston Conservation District through the South Sound GREEN Program as the AmeriCorps member serving as a Puget Sound Educator.
Aeriel graduated from the University of Montana with a BS in Wildlife Biology, and a BA in Studio Art with a minor in Art History and Criticism. After graduation she worked for Rocky Mountain National Park as an Interpretative intern giving guided hikes or ecology talks, and Bald Head Island Conservancy as a Conservation/education intern measuring water quality and sand dune erosion. Wanting to gain more field skills and gain better knowledge of different types of ecosystems, Aeriel joined AmeriCorps. She served with the US Fish & Wildlife Service West Virginia Ecological Service Office as the Endangered Species Education and Outreach Coordinator. Her year service with AmeriCorp in Appalachia spurred Aeriel to committing to a second year of service with South Sound GREEN in Washington.
Aeriel was born and raised in Iowa, where she grew up rolling in the dirt, swimming in the lake, or exploring the Loess Hills. Today, Aeriel is still working in the dirt, improving swimming waters, and traded the rolling hills for scaling mountains. When she's not volunteering, Aeriel spends her free time reading, taking photographs, or playing with her rabbit Lola.